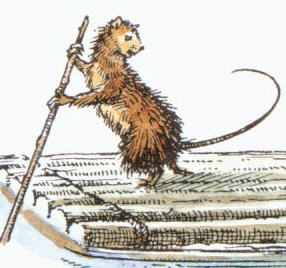 Water Rats
are talking beasts in
Narnia
.

They are intelligent creatures and excellent swimmers, which can swim in lakes or rivers around the world of Narnia.

At the very beginning of Narnia, Water Rats were present at the coronation where Frank I and Helen become the first King and Queen of Narnia.

One Water Rat was able to affiliate the Calormenes, which he did by operating a small punt with a pole. This occurred during when the Calormenes began felling the Narnian trees at the end of the Narnian world.
Links to various different water rat species
Ad blocker interference detected!
Wikia is a free-to-use site that makes money from advertising. We have a modified experience for viewers using ad blockers

Wikia is not accessible if you've made further modifications. Remove the custom ad blocker rule(s) and the page will load as expected.