Ad blocker interference detected!
Wikia is a free-to-use site that makes money from advertising. We have a modified experience for viewers using ad blockers

Wikia is not accessible if you've made further modifications. Remove the custom ad blocker rule(s) and the page will load as expected.
"Could you believe me if I said I'd been right out of the world--outside this world--last summer?"


This article is Out of Universe: it covers a subject that does not exist in the world of Narnia. (See the WikiNarnia Format for more information.)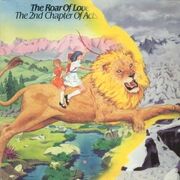 Artist: 2nd Chapter of Acts
Format: Studio album
Released: 1980
Genre: 70's Rock, Christian Contemporary
Length: 35:17
Label: Sparrow Records
Producer: Buck Herring
The Roar Of Love is a 1980 concept album by Christian band 2nd Chapter of Acts that tells the story of the first book in the Chronicles of Nárnia series by C. S. Lewis .
According to band member Matthew Ward , all the vocals were cut in a bedroom of the house the trio lived in at the time. They converted their garage into a mixing room, knocked a hole in the bedroom wall and ran a microphone cord into it. The songs have a heavy use of synyhesizers, which were monophonic at the time.
It was reissued on the Live Oak label.
Track listing
Are You Goin' to Narnia? - 3:26
Lucy's Long Gone - 1:46
Tell The Truth - 2:27
Turkish Delight - 3:00
Son of Adam, Daughter of Eve - 2:16
Christmas, Where Are You? - 1:50
Gifts from Father Christmas - 1:54
Aslan is Killed - 2:28
The Roar of Love - 2:28
I've Heard the Stars Sing Before - 2:13
He's Broken Thru - 3:14
Witch's Demise / Get It Into Your Head - 2:40
Something Is Happening in Me - 2:03
White Stag - 3:25
Personnel