"Could you believe me if I said I'd been right out of the world--outside this world--last summer?"


This article is Out of Universe: it covers a subject that does not exist in the world of Narnia. (See the WikiNarnia Format for more information.)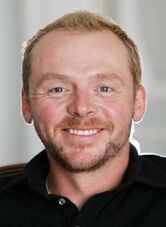 Simon Pegg
was the voice of
Reepicheep
in the
film adaptation of The Voyage of the Dawn Treader
.
He is an English actor, comedian, writer, film producer, and director. He is best known for having co-written and starred in various Edgar Wright features, mainly Shaun of the Dead, Hot Fuzz, and the comedy series Spaced.
Born Simon John Beckingham, on 14th February 1970, he is the son of a jazz musician father and a civil servant mother. His parents divorced when Pegg was seven. He was educated at Brockworth Comprehensive Secondary School in Gloucestershire and went on to Stratford-upon-Avon College to study English literature and performance studies. He then attended the University of Bristol, and earned a bachelor's degree in drama.
External Links
Ad blocker interference detected!
Wikia is a free-to-use site that makes money from advertising. We have a modified experience for viewers using ad blockers

Wikia is not accessible if you've made further modifications. Remove the custom ad blocker rule(s) and the page will load as expected.