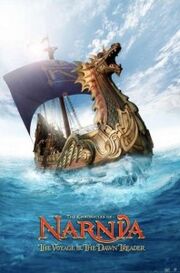 It happens from the move The Voyage of the Dawn Treader. The adventure begins when Edmund and Lucy are looking at a painting in Lucy's room and remark how Narnian the ship in the picture looks. Eustace walks in and begins teasing them again about Narnia. They all start to study the picture. Much to their surprise, the waves and ship seem to be moving! Suddenly the three of them are drawn into the painting and find themselves floating beside the magnificent ship. Someone from the ship jumps into the water and brings Lucy alongside the ship to have her lifted up, followed by Edmund, and finally the completely miserable Eustace.
Ad blocker interference detected!
Wikia is a free-to-use site that makes money from advertising. We have a modified experience for viewers using ad blockers

Wikia is not accessible if you've made further modifications. Remove the custom ad blocker rule(s) and the page will load as expected.