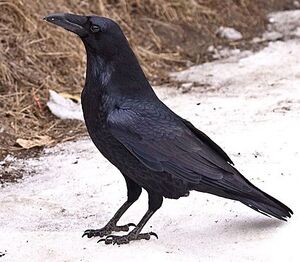 Ravens
were a species of bird called into
Narnia
on the
day
of its creation. They were also one of the creatures that
Aslan
chose to be
Talking Beasts
on that first day, and both the male and female talking ravens were part of his first council.
[1]
Presumably, they later attended the coronation of
King Frank
and
Queen Helen
along with the other Narnians.
[2]
During the Golden Age, a talking raven named Sallowpad was part of the Narnian diplomatic party that was sent to Calormen with King Edmund and Queen Susan. Having flown far and wide over the Great Desert in his youth, it was Sallowpad who informed the party of the hidden valley that provided an alternate route across the sands (the same route used by Shasta, Aravis, the talking horses Bree and Hwin and, possibly, Prince Rabadash's invading army).
The Old Raven of Ravenscaur was present at the meeting of Prince Caspian's war council at the Dancing Lawn.
Citations
↑

MN X

↑

MN XIV