"Could you believe me if I said I'd been right out of the world--outside this world--last summer?"


This article is Out of Universe: it covers a subject that does not exist in the world of Narnia. (See the WikiNarnia Format for more information.)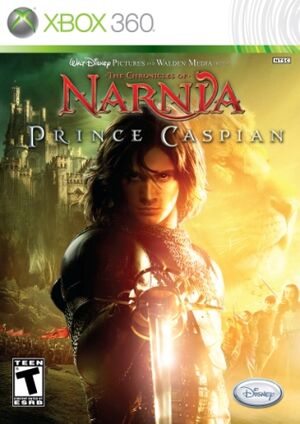 The Chronicles of Narnia: Prince Caspian game was an action-adventure, puzzle solving, video game based on the 2008 movie. The game was released on May 15, 2008, it is playable on Xbox 360, PS2, PS3, Wii, DS, and Microsoft Windows.
Features
Over 20 playable characters including non-human Narnians.
The same drop-in/drop-out co-up mode from the first game returns, though players can also play online.
A non-linear level structure enabling players to explore multiple paths in any order.
The ability from the first game to team-up with characters to combine abilities.
Playable Characters
Villains
Levels |- |
The Ruins at Cair Paravel
Miraz's Castle
The Seige of Miraz's Castle
The Battlefields of Beruna
Covers
Sources
External links
Ad blocker interference detected!
Wikia is a free-to-use site that makes money from advertising. We have a modified experience for viewers using ad blockers

Wikia is not accessible if you've made further modifications. Remove the custom ad blocker rule(s) and the page will load as expected.