"Could you believe me if I said I'd been right out of the world—outside this world—last summer?"


This article is Out of Universe: it covers a subject that does not exist in the world of Narnia. (See the WikiNarnia Format for more information.)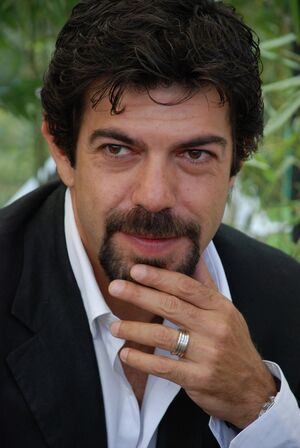 Pierfrancesco Favino
(born August 24th, 1969) is an Italian actor in Rome. He portrayed General
Glozelle
in Disney/Walden's 2008 adaptation of
Prince Caspian
. In his homeland, he is a well-known and prestigious actor.
Trivia
Favino speaks four languages. On the set of Prince Caspian, he was often required to act as a translator between the mulitethnic cast and crew members.
Favino has appeareded in three films together with actor Sergio Castellitto. In each one, Castellitto has been required to slap Favino across the face.
Five years before the filming of Prince Caspian, Favino appeared in the 2003 Italian film Ferrari, alongside two of his future fellow Narnia stars, Sergio Castellitto and Skandar Keynes.
Links