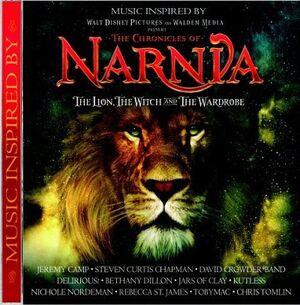 Music Inspired by The Chronicles of Narnia: The Lion, the Witch and the Wardrobe is an album of songs by various artists that were inspired by the Disney and Walden media film of The Lion, the Witch, and the Wardrobe.
Track Listing
1. Waiting For The World To Fall (Jars of Clay) – 3:40
2. Remembering You (Steven Curtis Chapman) – 3:52
3. Open Up Your Eyes (Jeremy Camp) – 3:39
4. Hero (Bethany Dillon) – 3:59
5. Stronger (Delirious?) – 4:52
6. Lion (Rebecca St. James) – 3:49
7. New World (tobyMac) – 3:16
8. I Will Believe (Nichole Nordeman) – 4:32
9. Turkish Delight (David Crowder Band) – 3:11
10. More Than It Seems (Kutless) – 3:20
11. You're The One (Chris Tomlin) – 3:53
Trivia
The bands Relient K and the Newsboys both wrote songs for the album. When they were not asked to be on the album, they released their songs on one of their own albums. The songs were: In Like a Lion (Always Winter) for Relient K and Something to Believe In for the Newsboys.
See Also
Notice
"Could you believe me if I said I'd been right out of the world—outside this world—last summer?"


This article is Out of Universe: it covers a subject that does not exist in the world of Narnia. (See the WikiNarnia Format for more information.)