"Could you believe me if I said I'd been right out of the world—outside this world—last summer?"


This article is Out of Universe: it covers a subject that does not exist in the world of Narnia. (See the WikiNarnia Format for more information.)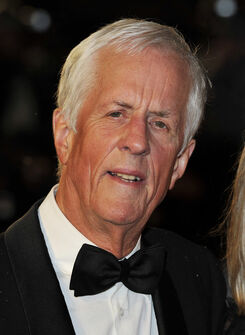 Michael Apted
(1941-) is a real-life British film director. He is the director of the 2010
The Voyage of the Dawn Treader
film, and may continue and direct future Narnia films as well.
He was elected president of the Directors Guild of America on 29th June 2003. His feature film, The Chronicles of Narnia: The Voyage of the Dawn Treader, premiered on 30th November 2010 at the Royal Film Performance. He was appointed Companion of the Order of St Michael and St George (CMG) in the 2008 Birthday Honours.
Apted usually works in connection with composer David Arnold.
Other works
Coal Miner's Daughter (1980)
Amazing Grace (2006)
Links