"Could you believe me if I said I'd been right out of the world--outside this world--last summer?"


This article is Out of Universe: it covers a subject that does not exist in the world of Narnia. (See the WikiNarnia Format for more information.)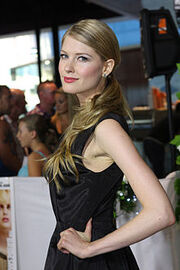 Laura Brent
is the Australian actress who portrayed
Ramandu
's daughter,
Lilliandil
, in the 2010 movie,
The Voyage of the Dawn Treader
.
Biography
Born in Melbourne, Laura Brent attended the National Institute of Dramatic Art, where she trained as an actress and singer, and graduated in 2007. She made her first screen appearance in the 2009 short film, Message from the CEO, and went on to make guest appearances on the Australian television series, Chandon Pictures, Legend of the Seeker, and, Rescue: Special Ops.
The Voyage of the Dawn Treader film was her feature film debut.
Links
Ad blocker interference detected!
Wikia is a free-to-use site that makes money from advertising. We have a modified experience for viewers using ad blockers

Wikia is not accessible if you've made further modifications. Remove the custom ad blocker rule(s) and the page will load as expected.