Ad blocker interference detected!
Wikia is a free-to-use site that makes money from advertising. We have a modified experience for viewers using ad blockers

Wikia is not accessible if you've made further modifications. Remove the custom ad blocker rule(s) and the page will load as expected.
"Could you believe me if I said I'd been right out of the world--outside this world--last summer?"


This article is Out of Universe: it covers a subject that does not exist in the world of Narnia. (See the WikiNarnia Format for more information.)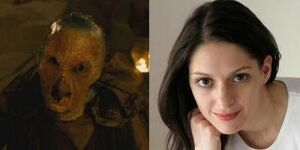 Klara Issova
, sometimes known as Klára Issa, is a Czech film, stage and television actress. She played the
hag
in
The Chronicles of Narnia: Prince Caspian (film)
.
Born on the 26th April 1979, in Prague, she is the daughter of Syrian director Michel Issa, and the cousin of actress Martha Issová. Klára studied Conservatory. In 1997, she got the Czech Lion Award for Best Female of Nejasná zpráva o konci světa.
Links