"Could you believe me if I said I'd been right out of the world—outside this world—last summer?"


This article is Out of Universe: it covers a subject that does not exist in the world of Narnia. (See the WikiNarnia Format for more information.)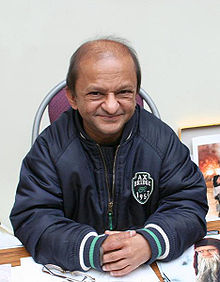 Kiran Shah
played the character
Ginarrbrik
, the
Black Dwarf
, in the 2005 film,
The Lion, the Witch, and the Wardrobe
where he serves the
White Witch
.
Bio
Kiran Shah (born September 28th, 1956) is an actor and stuntman.
Shah was born in Nairobi, Kenya. He lived in Kenya until he was twelve years old, when he moved to India with his family. While living in India, he became interested in films, and when his family moved to London, he became involved in the show business. His first film was the 1977 movie Candleshoe, as a stand-in for a girl called Sara Tamakuni, and when stunt coordinator Bob Anderson asked him to do her stunts as well, his career was started.
Kiran is often confused with Deep Roy; they are both dwarf Kenyan actors of Indian descent who got their starts in film and television in the late 70s.
In addition to being an actor and a stuntman, Kiran is also a poet. His poetry has been published in Great Britain and the U.S., and is based on his personal thoughts, feelings, and experiences.
Links