"Could you believe me if I said I'd been right out of the world--outside this world--last summer?"


This article is Out of Universe: it covers a subject that does not exist in the world of Narnia. (See the WikiNarnia Format for more information.)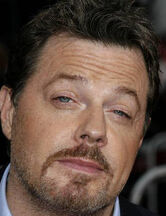 Eddie Izzard
was the voice of
Reepicheep
in the
film adaptation of Prince Caspian
.
Edward John "Eddie" Izzard (born 7 February 1962) is an English stand-up comedian, actor, and writer. His comedy style takes the form of rambling, whimsical monologue and self-referential pantomime. He had a starring role in the television series, The Riches as Wayne Malloy, and has appeared in many motion pictures such as, Ocean's Twelve, Ocean's Thirteen, Mystery Men, Shadow of the Vampire, The Cat's Meow, Across the Universe, Prince Caspian, and Valkyrie. He is also the voice of Nigel in the 2006 animated film, The Wild, and Miles Axlerod in the 2011 Disney/Pixar animated film, Cars 2.
External Links
Ad blocker interference detected!
Wikia is a free-to-use site that makes money from advertising. We have a modified experience for viewers using ad blockers

Wikia is not accessible if you've made further modifications. Remove the custom ad blocker rule(s) and the page will load as expected.