"Could you believe me if I said I'd been right out of the world--outside this world--last summer?"


This article is Out of Universe: it covers a subject that does not exist in the world of Narnia. (See the WikiNarnia Format for more information.)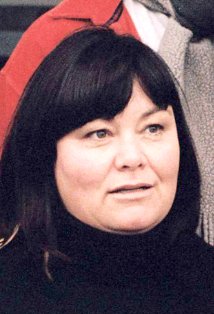 Dawn Roma French
(born 11th October, 1957) is a British actress, writer and comedian. She portrayed the voice of
Mrs. Beaver
in
The Lion, the Witch, and the Wardrobe
.
She is best known for starring in and writing for the comedy sketch show French and Saunders with comedy partner Jennifer Saunders, and also for playing the lead role of Geraldine Granger in the sitcom The Vicar of Dibley.
She has been nominated for seven BAFTA Awards, and also won a Fellowship BAFTA along with Saunders.
Trivia
Dawn also did the fat lady in Harry Potter and The Prisoner of Azkaban
Links
Ad blocker interference detected!
Wikia is a free-to-use site that makes money from advertising. We have a modified experience for viewers using ad blockers

Wikia is not accessible if you've made further modifications. Remove the custom ad blocker rule(s) and the page will load as expected.