Ad blocker interference detected!
Wikia is a free-to-use site that makes money from advertising. We have a modified experience for viewers using ad blockers

Wikia is not accessible if you've made further modifications. Remove the custom ad blocker rule(s) and the page will load as expected.
"Could you believe me if I said I'd been right out of the world--outside this world--last summer?"


This article is Out of Universe: it covers a subject that does not exist in the world of Narnia. (See the WikiNarnia Format for more information.)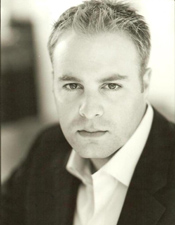 David Thwaites
played
Eustace Scrubb
in the BBC version of
The Voyage of the Dawn Treader
and
The Silver Chair
in 1990.
Bio
David Barry Thwaites (born June 16, 1976) is a British actor and producer. He is most notable for his television appearances as a teenager.
In 1989, aged 13, he appeared as
Eustace Scrubb
in the BBC's adaptation of
The Voyage of the Dawn Treader
. A year later he reprised this role in
The Silver Chair
(1990).

He is now currently living in Los Angeles, as a producer. He served as executive producer on All the King's Men, License to Wed and Black Swan, and producer on Miss Potter.
Links