"Could you believe me if I said I'd been right out of the world--outside this world--last summer?"


This article is Out of Universe: it covers a subject that does not exist in the world of Narnia. (See the WikiNarnia Format for more information.)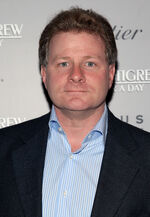 David Magee
(born 1962) is an American screenwriter, who was nominated for a 2004 Academy Award and a Golden Globe for Finding Neverland. Along with Simon Beaufoy he wrote the screenplay for Miss Pettigrew Lives for a Day starring Frances McDormand and Amy Adams, which was released in 2008. He is the screenwriter for the
Chronicles Of Narnia: The Silver Chair
His screen adaptation of the novel Life of Pi by Yann Martel was directed by Ang Lee, released in 2012, and earned him a Satellite Award for Best Adapted Screenplay and a nomination for the Academy Award for Best Adapted Screenplay.
He is currently writing the screenplay for the Disney musical Mary Poppins Returns, directed by Rob Marshall, with music by Marc Shaiman and lyrics by Marc Shaiman and Scott Wittman. The film will star Emily Blunt and Lin-Manuel Miranda and is scheduled for release December 2018.
Trivia
Magee is the screenwriter for the Chronicles Of Narnia film: The Silver Chair , which is being produced by the Mark Gordon Company and released by TriStar films
Links
Ad blocker interference detected!
Wikia is a free-to-use site that makes money from advertising. We have a modified experience for viewers using ad blockers

Wikia is not accessible if you've made further modifications. Remove the custom ad blocker rule(s) and the page will load as expected.