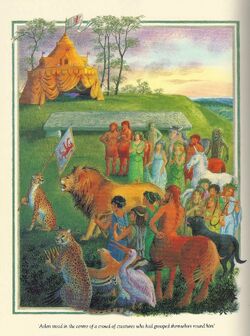 Aslan's Army of the Kingdom of Narnia
was the first known
Narnian military force
established by Aslan, and first led by King
Peter Pevensie
and Supreme General
Oreius
, and commanded by King
Edmund Pevensie
. Aslan's Army flew flags with a bright red depiction of the Great Lion, and they triumphantly won the
First Battle of Beruna
, defeating the
White Witch
and her
army
. The Army slowly declined, especially during the
Dark Age
, and proved unable to fight off the
Telmarine invaders
, after which it was completely dissolved. After the Telmarine Army, the next legitimate military body of Narnia was the
Old Narnian army
.

Aslan's Army is made up of the following known creatures: -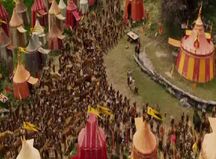 Birds (various species)
Bulls and cows
Cockatrices (BBC Adaption)
Gryphons (BBC and Film adaptations)
Minotaurs (animated adaption)
Moose (animated adaption)
Red Dwarves
Ad blocker interference detected!
Wikia is a free-to-use site that makes money from advertising. We have a modified experience for viewers using ad blockers

Wikia is not accessible if you've made further modifications. Remove the custom ad blocker rule(s) and the page will load as expected.