Ad blocker interference detected!
Wikia is a free-to-use site that makes money from advertising. We have a modified experience for viewers using ad blockers

Wikia is not accessible if you've made further modifications. Remove the custom ad blocker rule(s) and the page will load as expected.
"Could you believe me if I said I'd been right out of the world--outside this world--last summer?"


This article is Out of Universe: it covers a subject that does not exist in the world of Narnia. (See the WikiNarnia Format for more information.)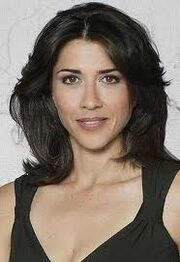 Alicia Borrachero Bonilla
was the actress who played Queen
Prunaprismia
in the
Prince Caspian movie
.
Born in Madrid on February 14th 1968, she is a Spanish actress who is quite popular, thanks to her roles on TV, but she has also taken part in theatre plays and movies as well.
She studied drama at Nazareth College, and in the drama training atelier in Madrid. She had her first child in November 2005 with her husband since 2003, the actor Ben Temple.
Links